News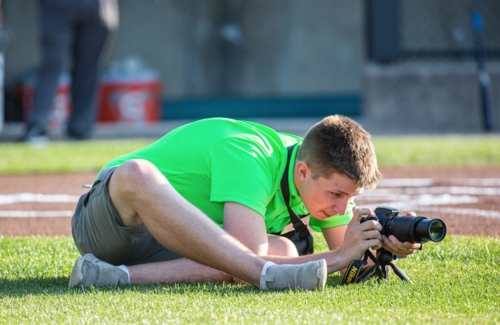 Worcester, MA- The Worcester Bravehearts are proud to announce their social media intern Elijah Green has been named the top intern in the Futures Collegiate Baseball League. During his time with the Bravehearts, Green worked under the team's Media Department, providing photo and video content for the all social media platforms.
Green originally met with members of the Bravehearts Front Office in February, attending the team's annual Sports Management Summit. After a couple interview rounds, the Bravehearts made the decision to bring him on as the team's content intern, a position that the organization agreed was becoming increasingly popular.
"Elijah is a go-getter, and someone who I believe is the perfect choice for this award," said Bravehearts General Manager Dave Peterson. "Elijah first reached out to me in January, asking to talk more about the sports industry with a fellow Syracuse Grad. From his constant follow-ups and his passion for breaking through in the industry, I knew he would be an excellent intern before he even started with us."
When Peterson came up to Syracuse for an alumni weekend, him and Green scheduled an in-person coffee session to chat about the industry. "I knew he was a bright kid from the moment I met him. He had a real excitement about learning the ropes, and I could immediately sense his eagerness."
After the meeting, Green attended the Sport Management Summit, and continued to follow up with the Bravehearts.
"He was one of the only applicants for our internships that was consistently in my inbox once a week," said Bravehearts Media Director Donny Porcaro. "He met with Dave, introduced himself to me at the Summit, and then was following up weekly. His passion for the position showed before he was even hired, and certainly followed him throughout the internship.
When Green was on the field, he was providing by-the-minute photo and video to the Bravehearts content team. He was also a constant face on the team's tarp crew and trash crew, almost always being the final person remaining after the game picking up trash in the stadium.
When he was off the field, Green logged dozens of hours editing and sorting his content after games to ensure that the team had everything ready to go for the next home game.
"Elijah was a big part of the Bravehearts social success in 2023. We're proud to have him on staff, and he was a fantastic choice for the Futures League intern of the year" said Porcaro.